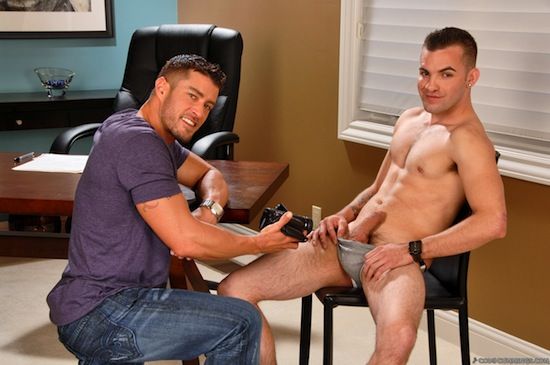 11 Votes | 9 Likes | 2 Dislikes
New Porn Hunk Brad Foxx Sucks Off Cody Cummings!
Posted: May 4, 2012 by 199958
I sometimes wonder what it's like having an interview for a porn position. I mean, you hear stories about guys doing all kinds of things in Hollywood to get the part in a mainstream job, but when it comes to porn, isn't it part of the audition process to jerk off, suck cock or even fuck? How do you know what's considered sexual harassment?
Elvis

says:

A webbed penis is a namrol-sized penis where the skin of the scrotal sack extends part way up the shaft of the penis. Boys can be born this way, or the condition can result from an over-exuberant circumcision where adhesions form between the scrotal skin and the penile skin. Webbed penis usually causes no problems (unless a routine circumcision is later performed). It is unlikely to get better as the child grows.A concealed penis is a namrol-sized penis that lays hidden in the pubic fat pad. This condition is also called buried penis or hidden penis. Some children are born this way, and for some it happens after circumcision. It is common in infants and toddlers, and occasionally seen in older children and obese adolescents. If the penis can be easily exposed by gently pulling on it or by pressing down on the surrounding fat pad, then the situation will usually correct itself over time. Sometimes surgery is needed for concealed penis. Either way, social, urinary and erection results are excellent.A trapped penis is a namrol-sized penis that is partially stuck in the pubic fat pad. Children are not born with trapped penis; circumcision causes it. Routine circumcision of a webbed penis or circumcision when there is significant scrotal swelling (from a hydrocele or hernia) can lead to trapped penis. Scarring or adhesions trap the recessed penis in the fat pad. This condition can predispose children to urinary tract infections or urinary retention. Surgery is usually wise.All of the above conditions have a penis of namrol size. In determining size, the stretched penile length is far more important than the relaxed length. To evaluate penis size, stretch the penis gently and measure from the bone at the base all the way to the tip. Be sure to depress the surrounding fat pad to get all the way to the baseMicropenis is a penis that is more than 2.5 standard deviations below the average size for age. In a newborn, a stretched penile length less than c2be inch (1.9 cm) is micropenis.