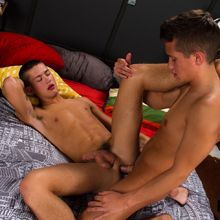 1 Votes | 1 Likes | 0 Dislikes
Tyler Hill & Sean Ford – Twink flip fuck!
Posted: October 21, 2016 by selliottsxm
When you have gorgeous golden boys Tyler Hill and Sean Ford in a video you know it's going to be awesome. Then you find out it's a twink flip fuck too...!